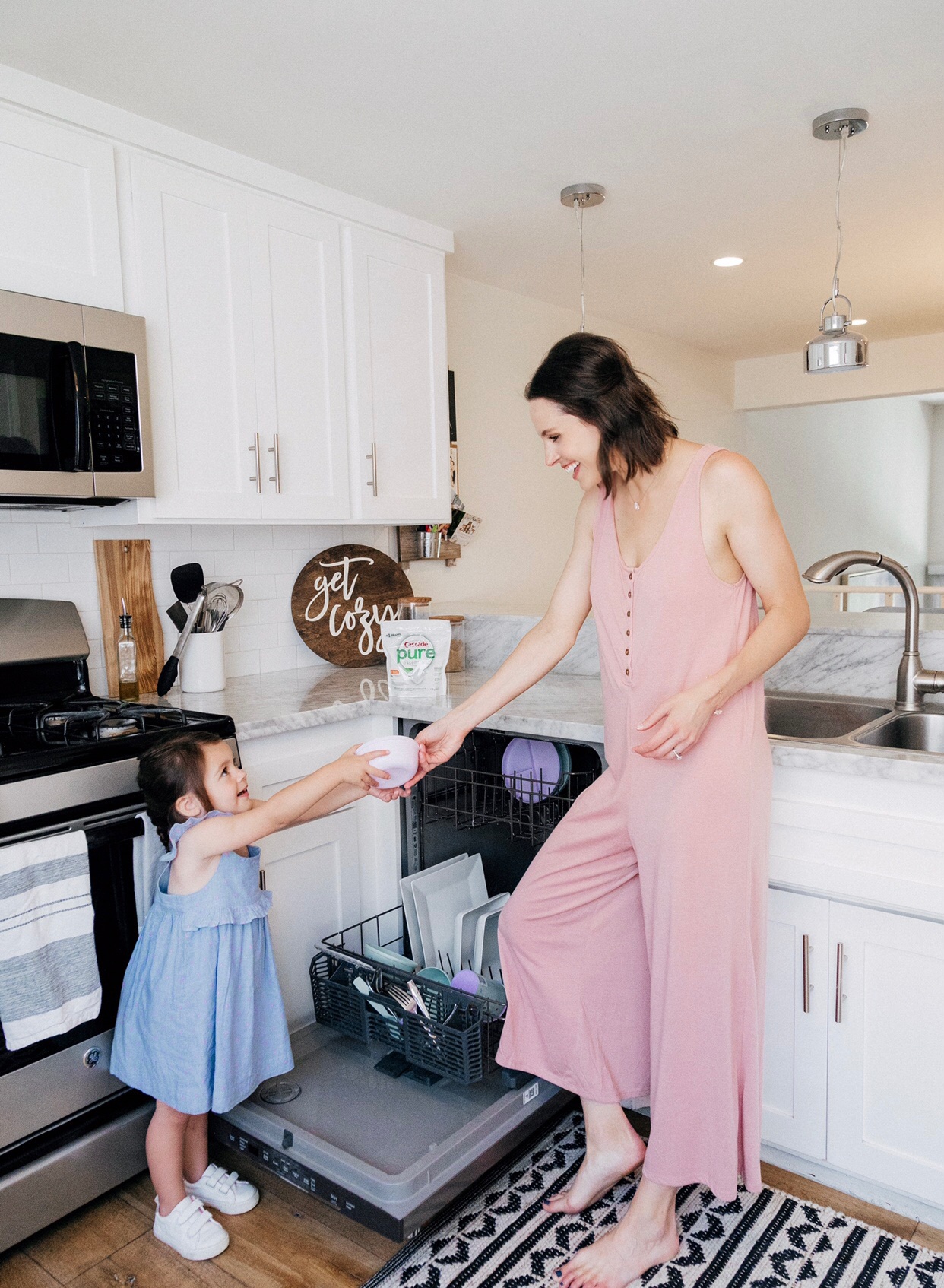 One #parentinghack at a time!
This post is sponsored by new Cascade pure essentials. All opinions are 100% my own!
Where my parents at? More specifically- where are my 'overtired, underpaid, but you still wouldn't change it for the world' parents? All of us?! Ha! This parenting gig is the BEST, but more often than not, I go to sleep with a to-do list longer than the day before and a wish that there were more.hours.in.the.day.please!!! That's why I jump on every opportunity to make my life a smidge easier, especially when it comes to the inevitable household chores. Of course, right?

Well- in true 'me' fashion- that has gotten a little more complicated lately because: insert the dreaded #momguilt! I've been slowly been making the switch to products in my home that I can feel good about using around my family, but I've noticed that more often than not, they just don't seem to work as well as my tried + trues! Leaving me saying 'now what?' and beginning my quest to find cleaning products that I can feel good about that still ACTUALLY WORK! Spoiler alert: they exist.. ;) And ironically enough, they all include essential oils! Without further ado- 4 household hacks that have been making my life easier lately- and have put my mom guilt at bay!



1. CASCADE PURE ESSENTIALS: Cascade products have always been my family's go-to because of how effective they are, but we recently switched over to their new #PureEssentials product. Why new Cascade pure essentials?
Its simplified formula is infused with biobased ingredients and has no chlorine bleach and no phosphates. Huge!!!

It's perfumes are infused with essential oils that get your dishes sparkling clean- without having to pre-rinse.

No powder residue.

Trusted brand.

Perfect pairing between performance + a product you can feel good about.
Cascade pure essentials is now available at your local Kroger store (that's Ralph's for us)! Get $1 off any Cascade pure essentials item with an online eSaver on Kroger.com now through May 25th - click here!

2. USE ESSENTIAL OILS FOR A SPARKLING TOILET
Quite possibly my least fave household duty- cleaning the toilets! I have a feeling I'm not alone on that one?! This hack will make it easier: Mix one cup of baking soda with 15 drops of tea tree essential oil and 15 drops of lemon or orange essential oil. Let the mixture sit in the bowl for 30 minutes and scrub with a bowl brush before flushing.
3. USE LEMON OIL AS A NATURAL DEGREASER FOR THE OVEN
Ya'll know that I love to cook, but the aftermath of my recipe testing can be dreadful! Try this hack for a sparkling clean stovetop and oven, with minimal effort: Spray a mixture of one cup water, one cup vinegar and lemon essential oil onto your stovetop and simply wipe clean. For tougher stains, sprinkle baking soda first, then spray and wipe. You can use the same technique to clean your oven inside- which will help prevent kitchen fires- many of which are caused by grease. Good to know.. ;)
4. STEAM THE MICROWAVE WITH LEMON OIL
Just a few too many seconds of heating last night's leftovers in the microwave can be disastrous! (Jordi doesn't judge the time required well, guys. Just putting that out there..ha!) Use this hack to easily clean stuck on splatter: Add 15 drops of lemon essential oil into 1 1/2 cup water to a microwave-safe bowl, and microwave on high for 5 to 10 minutes, allowing the steam to condense on the inside walls/ceilings. Once complete, simply wipe away the softened food with a sponge.

BONUS HACK- get your littles to chip in. Whatever you are doing will most DEFINITELY take longer (hahah!), but you'll be making memories and that sweet little face will remind you exactly why you try so hard and just how worth it this season is. ;) Have any hacks that I need to know about? Fill your girl in!