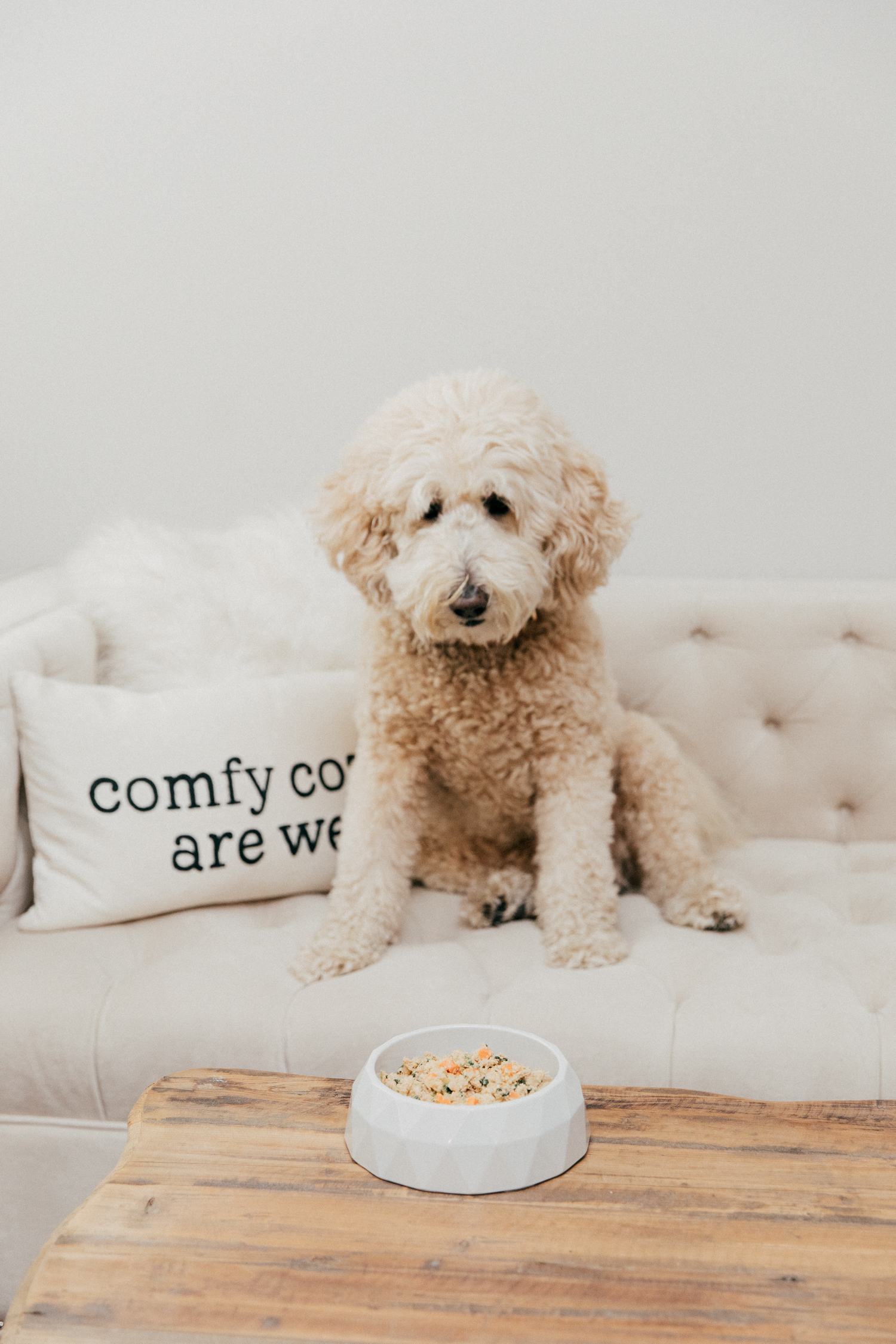 the food that has changed her life (+ a 50% off discount code at bottom of post ;)
Let me start by saying that I'm already actively trying not to gush, but there is going to be so much gushing in this post. Because I am so insanely grateful for the farmer's dog, you guys. There isn't a doubt in my mind that switching Maddy to The Farmer's Dog has changed her life, and ours in the process. Here's the quick as i can version of her backstory.
Meet Maddy:
8 year old Goldendoodle; has never met a stranger; knicknamed "Beyonce" for her previously curvaceous figure; smart enough to know exactly what you're saying, will often choose ignore you anyways; cuddles for days; nap game on point.
The backstory: Maddy is the sweetest girl, but poor thing has literally had health issues since the day we got her (hello $10k+ in vet bills) and has basically been on a diet for years. Chick loooooves to eat. Which I totally can relate to. I can! But over the years, she went from being a little overweight to a lot overweight .. with the lifestyle changes that came with kids not helping a bit. I.e. - more snacks from the kids and a whole lot less hikes. Cue #dogmomguilt. She started laying around a ton more. She stopped being able to jump up on the bed. It even got so bad when I was pregnant with Evie that she had to be carried up and down the stairs of our three story house for weeks because of an ACL injury. All 70 pounds of her. She wasn't even allowed to step off a curb. Once her ACL healed, we would occasionally take her to the park to play and she'd be such a mess after that she would limp for days because her joints were in such bad shape. I mean.. so sad. She's only 8. And talk about vet bills again.. x-rays, heart specialist for her labored breathing, etc. What a mess.
WHAT I HAD TRIED: I felt like I had tried everything to get the weight off her. I'd gone completely raw - she lost weight, but her hair was falling out and her stomach was a mess because her diet wasn't balanced. So then I tried to make it balanced. I'd cook veggies and she'd eat around them in her bowl. I dropped hundreds of dollars at one of the fancy fresh dog food places in the Valley only to have her snub the salmon, lamb, turkey, AND beef options I'd bought her. I finally went back to dry food because my vet said that it was the best option and I felt silly for even trying all the other things.
So fast-forward to 8 weeks ago: when I saw "The Farmer's Dog x Maddy + Murphy" in my inbox I was reluctant to say the least, but I stalked the website a bit and then got on the phone Emily and she explained exactly why this food was the best option for Maddy. I told her that I doubted she would eat it. but we'd give it a try. And I am so grateful we did.
Week 1: She was obsessed with it. I had ordered her the turkey, beef, and pork recipes hoping she would like one of them. She loved them all. Hallelujah.
Week 2: Around two weeks in, I noticed her coat seemed shinier. I thought "Okay.. you're crazy. You want this to work so bad that you're losing it, Kaitlin." I didn't say a thing. And then later that night (that same night!!!), Jordi said "Is it me, or does her coat seem shinier?!" I almost cried. Ahahaha #emoforlife.
Week 3: Around three weeks in, we started to notice the weight loss. By the end of that week, she was jumping up on our bed again, which she hadn't been able to do in years.
Weeks 4-12: Our girl is back. She's lost more than 10 pounds, jumps into bed with me every morning as soon as Jordi heads out for work (and jumps in between us on days that he isn't working.. he's less humored by it than I am), and runs and plays like she's a puppy again. No limping, no yelping, just the happy girl she used to be.. standing by her bowl in the morning ready for breakfast and barking at me come 4:45 pm telling me she's ready to eat. Always 15 mins early. I die.

So to sum up my way too long version of our experience, I seriously cannot encourage you enough to try this for your fur babies if they are having any health problems. Or honestly, even if they aren't. When you look at the ingredients in the food, you will see a balanced diet + a long list of vitamins. For example, the turkey recipe that's pictured here - "Turkey, parsnips, chickpeas, carrot, broccoli, spinach, tricalcium phosphate, sea salt, fish oil, vitamin B12 supplement, zinc amino acid chelate, iron amino acid chelate, vitamin E supplement, copper amino acid chelate, thiamine mononitrate, sodium selenite, riboflavin supplement, potassium iodide, vitamin D3 supplement, folic acid" - I mean, I think I'd be healthier if I started eating her food. Jokes. Kind of. Ahahah. And to anticipate two of the questions that I asked Emily during my first call with her:
'What makes it so special?'
Human-grade USDA ingredients means less processing, natural nutrients, and higher safety standards.
Personalized, ready-to-serve plans customized to your dog's individual profile. Easy ready-to-serve meals are pre-made and pre-portioned. Just open and pour.


Made fresh and delivered. Your food is delivered to you within days of cooking. Never deep frozen. Never stored on a shelf for months.
'Whats the cost?!'
It depends on how much your pup is eating, so obviously feeding smaller dogs will be less expensive. Smaller dogs start at less than $3 per day, but for Maddy, who is a big girl- we're spending a little less than $7 a day, but she hasn't had to go to the vet because of a single injury since she's been on this. Each vet bill was between $250-$750, so every time I'm like "Oh lawd, this is pricey," I remind myself that we are no doubt saving money in the long run - in addition to the fact that there isn't possibly a price I could put on her health. There isn't a doubt in my mind that we were going to lose Maddy way too young, and I am so grateful that The Farmer's Dog has changed the narrative for us.
As always, please know that ANY and all questions are welcome here. I had a million, so I'd love nothing more than to be a helpful source of info for you, if possible.
To health and happiness - for all the members of our family,